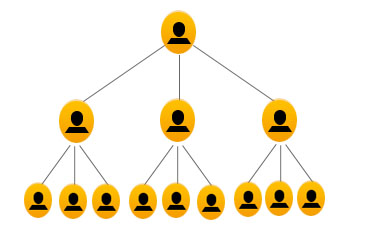 MLM Matrix Plan also known as Forced Matrix Plan in MLM companies which is alike to pyramid. In Matrix plan, members are normally compensated when they reach a certain level that is fix by the company.
Members which are organized in a certain width and depth are retrieved when they reach a set level. The MLM Company can set structure for joiners to get a particular level that may be 3 in width and 5 in depth. In other words a member only can introduce 3 as his first-line and a member can earn incentive up to 5th level.
As per MLM Matrix Plan the width is restricted therefore; a member can motivate his/ her down line members to earn more incentive. A member can get completing his width up to a end point and the new member will joined under any of your down line in depth. We can say the MLM Matrix Plan have best future for new members as well as old members.
Appcode Technologies has expert members of consultants who are available to recommend the best MLM Matrix Plan for the MLM company which want to start MLM organization and get huge profit. The development team in Appcode Technologies has designed & developed many Forced Matrix Plan for different MLM companies and continuously gives the 24X7 hours support to run their MLM business nicely.
CLICK HERE VIEW DEMO